Here are some favorite sites. Give them a visit. Reciprocal links with outdoor or relevant special interest sites will be considered. Use the feedback page to contact Dave for a request. Non-profit organizations wishing to have their site linked can also make a request. Enjoy!

"The Tradition Continues" - This is our message board. Stop by to chat and learn plus have fun at the same time. Open around the clock. Keep informed of important PA legislation by visiting the legislative action forum.

Pennsylvania Game Commission If you hunt in Pennsylvania, you should be familiar with this site. Licenses and other items can be purchased online. State Game Land maps also available online.

Pennsylvania Fish & Boat Commission - If you fish in Pennsylvania, you should be familiar with this site. Online purchases here too. Commonwealth Regional fishing waters maps available online.

Ven's Place - here is our favorite Texan who likes deer. His website is well worth a visit.

Pennsylvania Back Country Television - Fishing, hunting, wildlife in Pennsylvania, what more can you ask for?

Pennsylvania Federation of Sportsmen's Clubs - An organization of hunters, anglers, and trappers dedicated to protecting the rights of outdoor enthusiasts and natural resources.

Outdoor Times - Pennsylvania's hunting & fishing newspaper - Dave's column too.

PA Chapter Wild Turkey Federation - a great place dedicated to the betterment of a great bird.

Lehigh River Guides - need a trout trip on the Lehigh River. Driftboatsr will guide you thru with great fishing and a hamburger or two.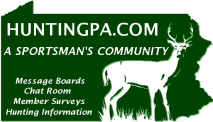 - Here is the big Pennsylvania hunting and fishing website.
USGS Stream flow data - How high and fast is it? This site will give you an idea of water conditions.
Bossy Bass - A group of dedicated women who love angling, nature, and the outdoor experience. Centered in SW Pennsylvania.
Flyfishing Today - Are you interested in everything flyfishing on a larger scene? Check the board here.
Lost Arts Trade Company - Handcrafted items for those wanting a unique gift. Jewelry, turkey calls, and other special pieces available. Ask for Ed.

This Fly Fishing Loop site is owned by Gateway to the Outdoors.
[ Prev | SkipIt | Next 5 | Random | Next ]